Friday, January 28, 2011
Reader Mail: Melissa Went to High School With The Starry Blight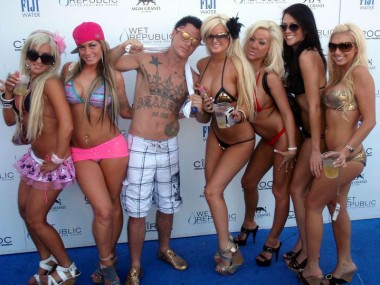 —–
First off, I want to tell you how much I love this site. It has brought me hours of tearful laughter and joy. I even had a Hot Chicks With Douchebags themed birthday party a couple years ago.
Now, I went to high school with this douchebag. A few days ago a friend of mine that I went to high school with forwarded me the link to his Facebook page. It was amazing. Instantly, this website popped into my head.
He was a skeevy little slimeball then, and it's nice to see that not much has changed. The more things change, the more they stay the same right?
-Dyed spiky hair? check
-HUGE Tattoo of poor quality of his own name on his torso? Check
-Overpriced outfits that scream "I'm just trying too hard?" Check
-The same creepy cold serial rapist expression in every picture? CHECK!
I would like you to understand how hard it was to just pick three pictures of this supreme douche nugget.
Enjoy.
– Melissa
—–
Excellent tag, Melissa. The Blight, aka "The King of Sears," along with his tasty Bleethy Hello Kitty Hott, is fast becoming a scrotal legend.