Thursday, January 13, 2011
The Stay Puft Pantywankers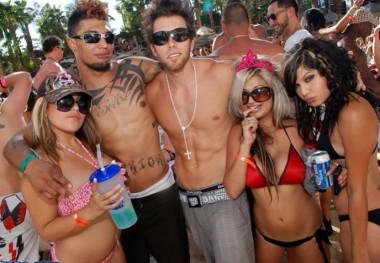 Ya know, other than my penchant for alcoholism and tasty Hostess snack cakes, I'm a pretty reasonable guy.
While I mock douchebags and lust their hotts on a daily basis, I'm willing to overlook some basic stage-1 douchetributes here and there.
You're at a desert resort pool area? A little undies poke could happen. It's possible.
I can even forgive bad sunglasses. As it's bright out.
But when you chin fung it up, bust the Jesus bling, display the stupid tribal tatts, go shirtless but with plaid pants, all while hitting on a tasty trampy Arizona State bachelorette party, you are regurgitated pig feed.
You deserve all the internet mock I can offer.
Yeah, you, Burt and Matty. You are pee stain flush scooby scrub.