Monday, January 24, 2011
The Waterbug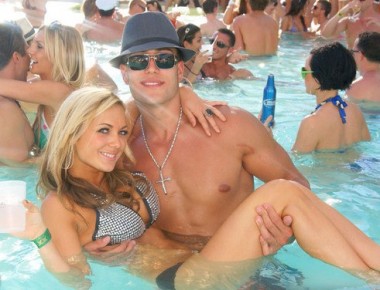 Continuing our recent theme of douchebags and hot chicks in the pool, meet The Waterbug.
Your typical fifth year Senior at a non-accredited university on spring break, scooping up Tasty Tonya in the pool, while wearing the unforgivable "hat + sunglasses + Jesus Bling in a swimming pool" choadwankery.
Still, The Waterbug would only be on the middle end of the douche scale. A stage-2 or 3-er.
But then he had to go and give us the tongue.
Tasty Tonya is a glorious doe eyed and firm gluted minx that deserves better.
And by better, I mean me, slavishly tickling her uvula with a pinky toe while the soundtrack to Twin Peaks plays at quarter speed.