Wednesday, February 2, 2011
Ask DB1: Is Meathead Autodouche?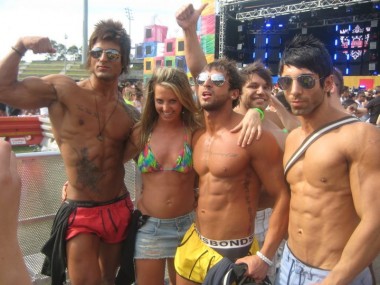 —–
Boss,
The site is becoming disconcerting to me. I get belittling doucheness, and believe me I'm all for it. So, I'm just going to put this out there:
I am a meathead.
I love being a meathead, and even compete in powerlifting competitions.
I don't have abs, and I dress normal.
I don't walk around with my shirt off, or distribute any other characteristics of douche.
However, it seems that more and more I log on and there is all this talk of "roid this" and "gym guys that". So when did meathead = autodouche?
I mean you would think the cause would want more guys like us on your team. We will quite literally destroy that that is douche, with much ferocity. Some comments on The JordanBag, as well as the Planet Fitness commercial you posted the other day have kind of set me off.
Take the Planet Fitness commercial you posted a while back.
OK, "I pick things up and put them down" guy was douche, but it was a commercial. The guy probably isn't like that all. Most meatheads I meet are honest hardworking educated guys like myself. I have a B.S. in IT, work in an office, and destroy my body on my off time. Why? Because I like being freaking huge and I like lifting really heavy shit.
I don't find that in itsself douchy. I'm modest, so if anyone asks me about "working out" I usually just brush it off with like a "oh, i get to the gym when I can" comment. Because they won't get me.
If I where to walk into a gym that had a little boy showing me around like the commercial of Planet Fitness, I would turn around and walk out. The same as anyone else would if they walked into a hospital and some pimple faced little kid said he would be performing your appendectomy today.
– Pumping Ira
—–
Well argued, P.I., and I agree that meatheadery is not autodouche. What is autodouche is excessive display of the male body for the purposes of peacocking spectacle and narcissism.
Provided you do none of these things, your weight lifting prowess is fully forgiven. And when Mecha Hiney Ho comes to pummel my ass, protection would be appreciated.