Friday, February 25, 2011
Boobies and Stupid Glasses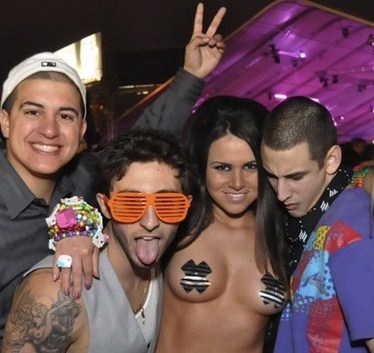 I'm not sure which clubvelopment of 2011 confuses me more.
The recent development for the Hotts to ditch clothing all together and go with paint/sticker boob reveal, or slotted sunglasses that look like a leftover cucoloris used to light the set of American Gigolo.
The glasses? Standard douchewear.
The boob reveal? Now I am as big a boobal aesthetic appreciator of spectatorship as the guy on the subway who drools on himself and shouts about Castro. But too much reveal, while appreciated on a lizard brain level, also does not establish a contextual eros. Therefore, I must rule: Too much reveal = Bleeth. For there is sensual cleavite reveal. And then there is tape on the nip.