Wednesday, February 16, 2011
Brothabag Leon and Posse Welcome All Chin Pube Pretenders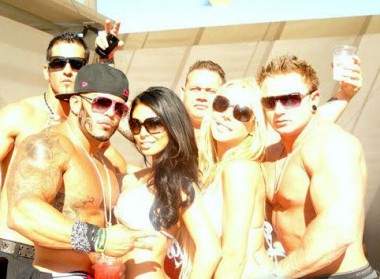 Yesterday we saw The Ferret attempt innovative chin pubal shave maneuver.
But it was nothing. Not compared to increasingly legendary HCwDB facially douchumphant Brothabag Leon.
For we are reminded of what it takes to perfect the craft of doucheyface, while crushing quality if douchetty suckle thighs Pamela and Andrea in a triple douchewich press:
Dedication.
Lack of employment.
At least sixteen different tools of sculpting and shaving ability. Preferably made out of sterling silver.
Residence in Florida, Arizona or parts of Long Island. At moms's house. 'Till the training career takes off.
We're looking at years of facial sculpt in service of hot chick annoyance.
Hmm… A Hall of Scrote nomination perhaps? The dedication to craft is impressive.