Friday, February 18, 2011
Friday Haiku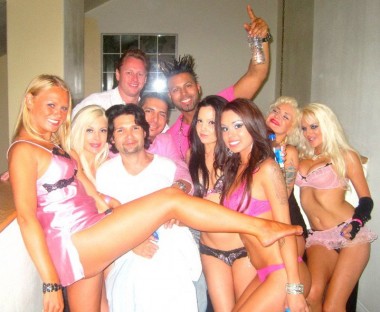 Feldman and The King,
With Harem of Giggle Hotts,
Dream a Little Dream.
3 girls in this pic
Not even close to born yet
When Goonies came out
— jonezy
Misuse of water:
instead of drinking it, please
pour it on boobies.
— Wheezer
Wednesday I lost job
Today I see this picture
Tomorrow shooting spree
— MC 900 Foot Douchebag
With "The Lost Girls"
on the set of "Meatballs 5″
Feldman still a douche
— dknutty
Old Johnny Cougar,
Clings to his washed-up career,
Yo, "Get a Leg Up"
— Rockabilly Johnny and the Electric Foreskin Benders
Yul Boner stars in
Timeless musical classic
The King and Pink Eye
— Mr. Scrotato Head
Descartes Said, "I Am."
Dochieous says "I Am Poo."
Feldman Snorts Another Line
— DoucheyWallnuts
Bachelor party?
Guests won't throw rice at wedding
but Valtrex instead.
— Eliza Douchecoo