Friday, February 4, 2011
Friday Thoughts and Links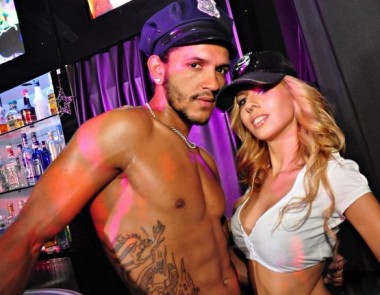 Here's HCwDB's very own orange almost-Legend and former Weekly winner, The Night Oranger. As a gay cop. But still pulling quality party hottness in the form of Sexy Cop Brenda.
So for that, he earns our Friday Mock.
A quiet week for your Humble Narrator. The Night Train is flowing after a brief "health" hiatus where I ate only wheat germ and a plate of mashed yeast crashed and burned with six consecutive trips to In-n-Out Burger. Those are some tasty burgers, Dude.
As to HCwDB's Mission Quest, the 'bags continue to doth protest too much, by email and comments threads, which means our mock continues to have potency, even in this unfortunate era of Jersey Shore meta-celebrity.
And for that, our cause remains not only Holy. But Righteous. And Just.
Here's your links:
Your HCwDB DVD Pick of the Week, Childhood Nostalgia Edition: "When single shines the triple sun/What was sundered and undone/Shall be whole, the two made one/By gelfling hand or else by none."
In Vegas, even the "Bellagio Bandit" wears douche wear.
I'm working on a spinoff of Jersey Shore right now with Peter Jackson, here's an exclusive sneak peek.
The Empire Farts Back. Quality cerebral satire for your Friday entertainment.
The Tralfamadorians still love HCwDB.
Since we're on an 80s nostalgia kick today, there were many arcade games that ruled back in the day. None more so than Journey. Bouncer Bonus Level for the win.
Next thing you know, you'll tell me Jim Carrey played a heroin addicted Axl Rose acting in a music video based on the Exorcist with a director played by Liam Neeson. In a movie starring Clint Eastwood.
The 80s were trippy times, man. Trippy times.
Here's your Pear:
It is rustic southern comfort. And the house, too.