Friday, February 11, 2011
Friday Thoughts and Links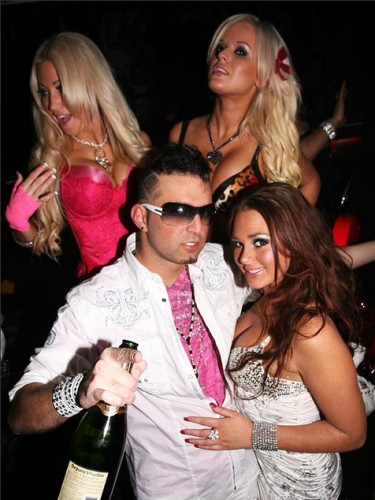 Look, Mummy! There's a douchebag up in the sky.
As the odious Starhawk continues to fake-party and pretend he's "lovin' life" while the repo men reclaim his Lexus in the parking lot, and while Tiny Brunette Beth gives me what the Mayans term "The Eye of Coitus," your humble narrator scratches himself.
I know what you're thinking.
What makes this scratching of self different than all other scratching of selves?
For on this scratching of self, I used a rigorous up/down motion. On all other scratching of selves, I use a more languid left/right fondle.
Here's your links:
Your HCwDB DVD Pick of the Week: "Spearmint or Fruit?"
Check out HCwDB fans and thrash metal band "I Dream of Apocalypse" performing their latest mock of douchebags, Straight Fag. "Wives and girlfriends, drag you to Sears, you sip zinfandel, never chugging a beer" = pure genius.
In China, Alpha Males carry designer purses. The global Grieco Virus continues to spread. We must mock harder.
Bored college girls dress up as librarian nerd hipster hotts. I love them all, equally and with great, if brief, passion.
As the Hottie/Douchey dialectics move from the avant-garde of early HCwDB into mainstream collective reconfigurations of the mapping of popular culture, we will see the conceptual revolution launched here begin to emerge in other institutional frameworks. Witness the following art exhibit at the Philadelphia Museum of Art: The Peacock Male: Exuberance and Extremes in Masculine Dress. As we remap history along Foucauldian interrogations of culture and power, more of this will take place, culminating in the globally acclaimed HCwDB exhibition at the Guggenheim in 2023.
More from the douchebaggization of Canada: At McGill College, Two Bros Seek Third Bro. The Bros ™ plan a lawsuit for copyright infringement.
Sometimes all you need is a heartwarming love story about a man and a stuffed bear/pig lady.
Mediocre New York Jets quarterback Mark Sanchez hits on a high school girl, makes an early case for 2011 Douchiest Athlete of the Year. Not superdouchey behavior yet, but the year is young. With Jeff Reed out of the league, the field is wide open.
Okay, enough links from the world of masculinity in crisis, lets remember what it is we're fightin' for. Since it's Valentines Day weekend and all, here ya go:
Go forth, fellow travelers on the hottie/douchey path of enlightenment. Another week has passed, and there's drinking to do.