Friday, February 25, 2011
Friday Thoughts and Links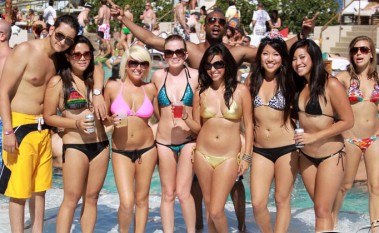 I'm gonna go easy on ya for this Friday Thoughts and Links.
So have a lineup of tremendous, award winning purity gnaw, and with only minimal 'baggage.
With only a likely nottadouche Brothabag whoopin' it up in the background. And his whiteboy sidekick over there on the left, Jon.
Jon don't say much. But he does love the Vegas In for the Weekend Bachelorette Party Woo Hotts from Arizona State.
As do we.
So we can't begrudge Brothabag Frankie or Sidekick Jon. Here's two nottadouches and goinpeaces Now get out of the pic. There's legs to gnaw.
Here's your links:
Your HCwDB DVD Pick of the Week: "Hey, Cookie. How about we stop playing all these games?"
Of the many Guido Dances we've laughed at over the years, none were as innovative as the techno basketball shot.
If you've ever wondered what happened to E.T. and Eliot, here's your answer.
There are many images of America. Very few explain the inherent contradictions of Americana quite like this image of two billboards. My new motto: I'd rather be at Big Jim's Boobie Bungalow.
HCwDB reader Emmitt makes a video where he goes Cougar Hunting.
Want one image from a book from your childhood that'll make you cry? Here you go.
Mmm… librarian hotts on "Community." One of the best shows on TV right now.
Speaking of children's books, here's a disturbing development: Teaching toddlers to wear douche-shirts.
But you're not hear for children's books. You're here for Pear:
Mmm… like two marshmallow aliens fighting for global supremacy on planet suckle thigh.
Go out. Go out and mock/lust. For the weekend is uponst.