Monday, February 21, 2011
HCwDB of the Week: Billy Dee Willhelm and Champagne Katie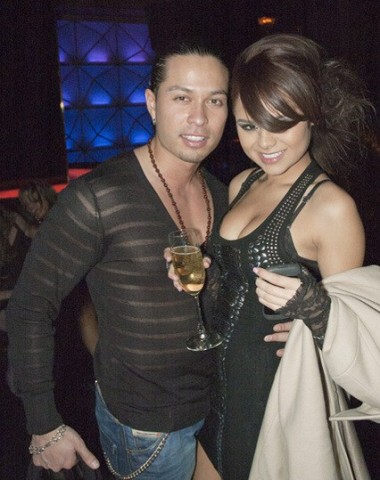 Lets get all Presidents Day up in this corpuscle!
Last week had some Ferret. Some Eurobag. Some Orange Flush And the return of Brothabag Leon.
We also extrapolated our developing theory of the importance of understanding the Mayan "Eye of Coitus" in all its permutations.
But in the end, it was tight sweater greasehead and tasty bottle hott for the win (loss).
Perfection of female form in the tiny slinky flapper girl of 1920s prohibition party that is Champagne Katie.
Nor should we underestimate the Colt 45 Doucheness of Billy Dee, wallet chains, stupid rings and rosary bling combined.
As with last month's Monthly winner, it's important for us to remember that hottie/douchey dialectics require both the punchworthy douche-face as well as the tasty shoulder gnaw female taut bobble.
And we cannot discount the second appearance of Billy Dee and Champagne Kate. Champagne Kate Makes Her Hott Pose, while Billy Dee hits on a lady in the background.
However, Mr. Biggs dissents from my pick, writing in with a strong argument for for Che Tattvara and cross-eyed Kate:
—-
Reminiscent of the couples who've ruined so many once decent hangouts here in LA, Che and Katie rip wormholes through American culture like a leaking BP gusher. Che's tattoos are a scrambled mess that are a fuck-you to anyone who wears tattoos as an ideological conviction. It's purely to attract hott, as evidenced by the open shirt. Do I even need to get into the Che cap and beard? The guy's probably a Tea-Partier if anything.
And that brings us to tasty yet cross-eyed Kate, who's just as spiritually cross-eyed. She's the kind of girl who's been dolling herself up for debutante balls since she stole mommy's lipstick at age 6. And now she's getting herself into all the hip hangouts. Of course she has no clue what she's getting into, only that El Che fills the bill in spades.
—–
Well argued Mr. B. But this was and is the Lando of Calrissians of douchebaggery, and the Millennium Falcon of boobies.
Chalk up Billy Dee and Champagne Katie for our next slot in the next monthly on this President's Day. And your scratchy DB1 to munch on some bagel with smear. And by smear, I mean gouda.