Monday, February 14, 2011
HCwDB of the Week: Stephanie and Suzanne meet the Greasepitz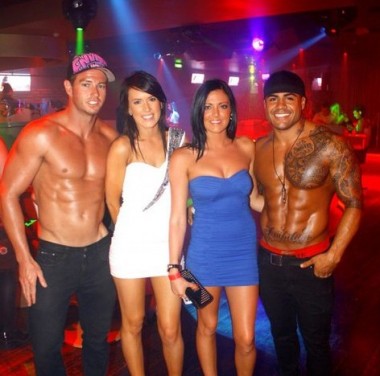 A vile hottie/douchey cohabit from back on February 1st, this perfectly balanced double dose of scrotal/innocent dialectic is a prime example of the Zen of HCwDB in all its cultural atrocities.
Why?
Because often we see the slutty hotts and the 'bags, and while the hott may be lustworthy in a douchadox sort of way, they pretty much deserve each other. Thus, no real discourse is generated. As we saw recently with, say, Nunzio's Abs, Your Saturday Vegas Valtrex Sandwich or Yankee Doodle Doodie.
But here we have Blue Dress Stephanie and White Dress Suzanne. Both ubergnaw. Firm of buttocks and spirit. Two young giggle bobbles just looking to go out and have fun at the clubs.
And here we have the Greasepitz. Groin shave reveal and oiled up abs. Douche faces and douche everythings.
Together, they form the proper wrongness of cultural disgrace that deserves to be highlighted as a Weekly winner.
(Dis)honorable mention to the costumed but still douchey warrior for Reagan-era douchebaggery, Rambro, The shaming of the British Empire with Charles Dickens, the reappearance of Tendon Ted and Ass Pear Annie as Angry Bert, and the odious and best quickly forgotten (although potential 2011 Douchie Award winning) Speedo Shot First.
And a special, special grope-out to Melanie.
But lets chalk up the the two Emerson costume design majors and the Greasepitz as the first to compete in the next Monthly, and aim to take on our first monthly winner, Gynochin and Rhea, at the 2011 Douchie Awards.