Thursday, February 24, 2011
Reader Mail: Four Prong Rains on Seattle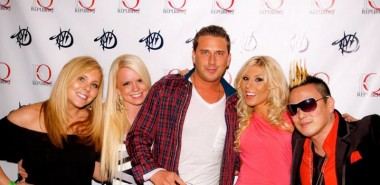 Jesse writes in from Seattle with a Four Prong tag:
——
So it has now come to my attention that 4-prong either lives in my sweet Seattle… or decided to drop his sweet douche self by… which is not okay.
I spotted these pictures that a few friends of mine posted, and had to ridicule and applaud them for snagging a photo with this fool. Enjoy.
– Jesse
P.S. I have no idea who this other douche is, but had to include his duck face.
—–
Like The King before him, the truly odious carriers of the Grieco Virus are mobile. Spreading their taint on hot chicks across this nation.
Especially the Bobbsie Triplets. Three glorious peroxided blondages of feminine spank gnaw.