Friday, March 4, 2011
Friday Haiku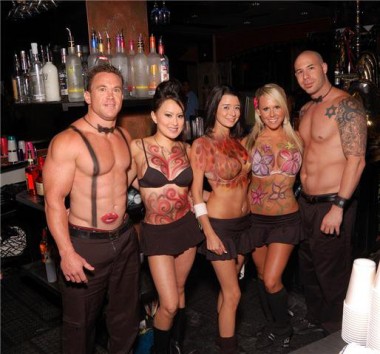 "Why's it smell rank?," said,
Brad's talking belly button,
But no one noticed.
Wrong ones are topless;
removal of bikinis
results in….."paint lines"?
— Wheezer
Brad's love life on hold,
Suffers from rare STD.
Intestinal crabs.
— Rockabilly Johnny and the Electric Foreskin Benders
Painted Goddesses
Next to Painted Fools and Trolls
No one is WINNING.
— jonezy
Those two black chest lines
Aren't really fake suspenders
Just giant skid marks
— saulgoode42
I'll have white Russian
Use extra boobie milk please
But no body paint
— Dude McCrudeshoes
Big Al's Body Shop:
After we lube your rear end,
We'll paint your bumpers!
— Hermit