Friday, March 18, 2011
Friday Haiku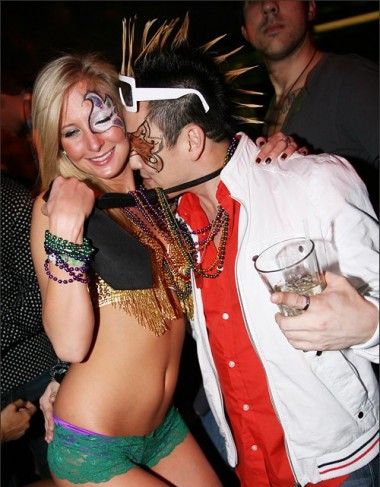 Prongs of New Orleans,
Mutant Douchewank Jazz Fest,
Kelly's thinking, "Prick!"
Hi. I have money.
Woo-hoo! I like guys with cash!!
Let me touch your ass.
— saulgoode42
Jurassic Park 4:
Revenge of The Asian Club
Hermaphrasaurus.
— Dr. Bunsen HoneyDouche
Kelly pulls Prong's tie.
Now loop it in ceiling fan
And hang that sum bitch
— Franklyn DealorNo Doucheifelt
Oooze left behind by
Low tide of humanity
Douchageddon looms
— Dude McCrudeshoes
Job at Home Depot
Won't happen if they see this
On her facebook page
— Vin Douchal
With most makeup off,
we learn that Ace Frehley was
hotter than we thought.
— Mr. White
Mardi Gras douchebags
Laissez les bon temps rouler
Right over hotness
— fidouchiary responsibility
Sin. Debauchery.
Four Prong flies his flag. The flag
That will taint her pooch.
— The Reverend Chad Kroeger
Blinded by the prong,
Both his nuzzle of drunk blonde,
And stab to the eye
— Condouchious