Friday, March 18, 2011
Friday Thoughts and Links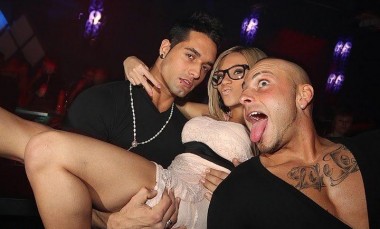 Oh, Canadian Kleenex Wipes. How you grope the hipster librarian Bleeth/Hotts in so many wrong ways.
It's enough to make angels weep and bears urinate on garbage cans.
A quiet, humble week for your scruffy narrator. Trying to sell new shows in the wastezones of Hollywoodland, and taking time to scratch myself on the way.
L.A. has finally stopped raining so much. And the gugenzelia flowers smell like snozzleberries.
Here's your links:
Your HCwDB DVD Pick of the Week: "Maybe you can help me. What's wrong with my life? Why is my wife sleeping with someone else? Why can't I sleep?"
An anonymous no-talent assclown by the name of "Joe Buys" makes a webpage. Click "play" at your own risk.
Duck Hunting: Reality TV Edition. Sugar is a badass.
Cracked Magazine riffs in an HCwDB way in The rich dick's guide to picking up women.
From Failblog, what every industrial zone needs: The Hipster Trap.
Slate discovers the amazing fact that young loser dudes hook up with hot chicks. Or, as they called it in the 90s, "College."
Take heart, friends, for now even Skybar has picked up the good fight.
A performative 'Bag hunter in Vegas, "The Gazillionaire," takes on "The Situation."
In spite of the world's many troubles, there's always joy in discovering that noted actor James Cromwell once played a swingin' detective on "Three's Company." Jack Tripper approves.
But you are not here for spider bite erections. You are hear for pear. In the spirit of spider biting, enjoy:
Where necrophilia fantasies and glute pooching meet.
The weekend has begunst. And your humble narrator is already drink on rice wine and mead.