Friday, March 25, 2011
Friday Thoughts and Links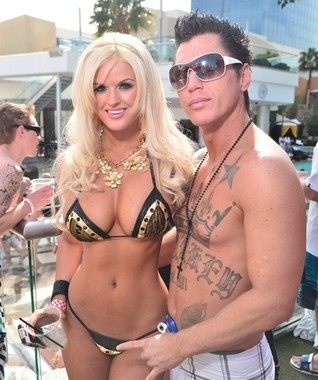 Just when you think the hottie/douchey cohabit is waning, you remember that Vegas crusties like Hello Kitty Hott and The King of Sears are still out there.
Still shouting, "Bro! Wassup?" And then making intricate hand slaps with people whose names they can't quite remember.
Here's your links:
Your HCwDB DVD Pick of the Week: "Better to be king for a night than schmuck for a lifetime!"
'Baghunters beware! 'Bag Tagging can be dangerous.
The best five minutes you can waste this weekend should be spent on appreciating the genius that is N.Y.C. (1983). Should've bought one of those Keith Harings or Basquiats.
An early candidate for douchiest athlete of 2011, Dallas Cowboys receiver Dez Bryant ejected from a mall for baggy pants, throws a fit.
The late, great Bill Hicks explains Christianity. We need you now more than ever, Bill.
Moronic pseudo-celebrity clown Chris Brown is still a douche. Or just wants to stay relevant. I know this story is boring and old, but it had to be noted for austerity.
For those who can truly appreciate a hot chick no matter the form of her jibblies, I give you Thailand's Got Talent. And now I'm disturbed and questioning everything about myself.
When douchebag arrogance becomes dangerous.
In sign #523 of the impending douchepocalypse, The Fake Ab Concealer.
For those who missed it last week, "The Situation" reminds us what happens when douchebags try to do anything other than flex.
But you are not here to mock the pathetic packaging of The Situation. You are here for Pear:
That pic is like some weird hallucinogenic flashback to 80s hott fantasy. I'm talking Sherilyn Fenn 80s. Good times for the early pubescent development in your humble narrator.
I will toast the memories (mammories) of Fenn all weekend. For the weekend is uponst. And spring is here.