Friday, March 18, 2011
Reader Mail: Jaundice Kyle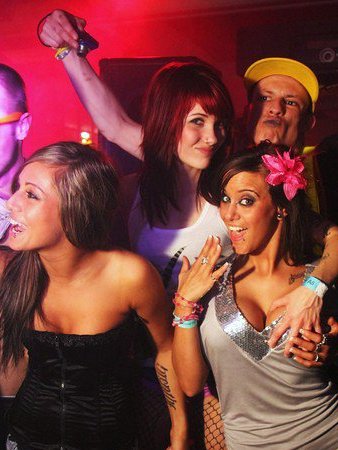 Reader Jacques Doucheteau writes in with a Facebook tag:
—-
I came across this somewhat surreal looking photo on Facebook, of whom no one in the picture I personally know which makes it okay for me to submit for mocking without remorse.
Some friend of my friend knows who they are apparently, as they all go to raves together, which is pretty douchey to begin with. The guy with the arsenic blue lips is obviously trying desperately to get in on the nuzzle hot action, but is being largely ignored as he snaps away for his profile pics.
The party lighting and his duck lips pose further accentuate his already gaunt and sickly appearance as he stands on his tipee toes for the camera. He only wishes it was his hand clutching Erin's perky swollen mammary cannons, and almost looked like it at first glance, but instead they are roughly clutched in bi-curious Nessy's disturbingly manly hands. I'm guessing that's why he chose this as his GODDAMN PROFILE PICTURE!
Oh, Erin. Your boobies inspire monks to utter blasphemic curses at orphans and stomp on baby ducklings in the vain hope to gain audience with the homeless veteran who begs for change a block down from the flower shop where that lily in your hair was purchased. I personally would canter gleefully through a field strewn with razor wire and irate badgers, pausing occasionally to induce vomiting with a swig of vinegar and goat abscess pus, for the mere possibility that I could uncomfortably snuffle through your mom's recycling until she chases me off her property with a broom.
I dub him, Jaundice Kyle. For his purple lips, bruised beanpole arms, and yellow complexion in the presence of refreshing sweet hottsicles doth offend me. Or to put it another way, f#ck you buddy.
—–
Well argued, J.D., and your ode to Erin's mammages is both poetic and astute. A perfect tag/writeup for a lazy Friday. I toast you with a HoHo.