Thursday, March 17, 2011
Reader Mail: The Britbag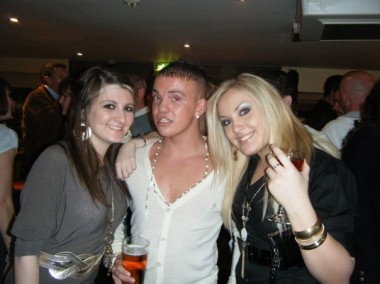 Count Bagula writes in with the spreading Jerz Virus in Britain:
—-
Dear DB1,
Apparently MTV is the bringing the dose of televisual herpes known as Jersey Shore to the UK…the show will be known as Geordie Shore. Why set this show in the North-East of England, you may ask?
This cardigan-wearing, chest-shaving, wannabe-Situation is the answer. His friends look on in awkward confusion as he speaks of 'GTL for life', 'a Jesus piece' and 'bitches'…all they want to do is enjoy a quiet pint with the girls who've lived on their block since they were all 3 years old. Sadly, the Solo Bag lowers the tone. A dark day indeed.
– Count Bagula
—–
Britbags have been there for as long as fist pumping took viral club flight. The Jersey Shore is merely the signifier, not the sign.
Mmm… I salute the Brit Hotts from my wanderings in London a few years ago. Awkward, shy, alcoholic and boozy flirts, the birds of London may not be as hott as the ladies of the Eastern Bloc, but they sure can stumble out of a pub at 2am and then let me pooch their anklets by Harrods.