Wednesday, March 30, 2011
Reader Mail: Willem's Rappercrud Tag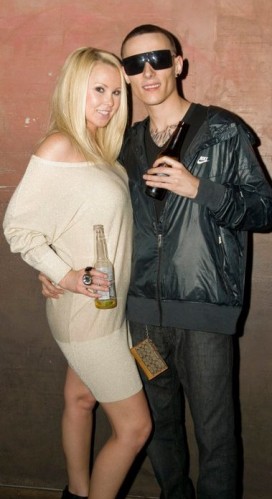 ——
Subject: Utter D-Bag
This photo is of a cute friend and her utter d-bag boyfriend. He is such a d-bag it is almost is if he is trying to make an ironic statement about douchebaggery but unfortunately for her he is way too dumb for that.
The best part is that he thinks he's rapper.
– Willem

——
That "video" may be the more reprehensible slice of humanity fail I've seen since the Criss Angel music career crisis of the late 2009s.
The Wankstabag category continues to be the most infuriating and perplexing, as hiphop wigga suburban shitestains long ago crossed into pathetic self parody and part time employment at Carl's Jr. Tasty Barely Legal Belinda deserves far better. I scornfully reproach the failure of her parents as she complains about her struggling career as a custom jewelry designer, then stare at her pokey sideboob when she's busy removing the swizzle stick from her appletini.