Tuesday, March 22, 2011
The Genie Outside of Bottle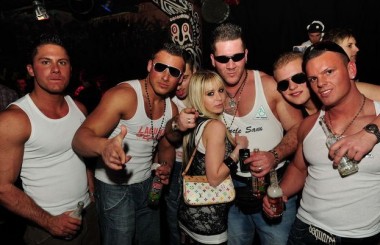 Here's the central concept underlying Orangemen group groping a hottie that we all need to understand.
In the age of Toffler's Future Shock, language and image have inverted, flipped on their lid, and danced a jig of meaning fragmentation. Put simply, the egg-being is post-born and forever broken. Humpty Dumpty can never cohesively be reconstructed again.
The conceptual structures that maintain institutional power are not visible, as Foucault taught us, but instead teach us self imprisonment through linguistic inscription and repetition.
It is only when the image is fully untethered from structure, when the signifier is fully destabilized in the simulacrum, that true revolutionary dialectics can occur.
This is the revolution of HCwDB, no matter how it becomes codified in subsequent form.
The 'bags and hotts featured images on this site do not exist.
They are conceptually reinscripted (re)creations of spectral phantasm conjured by each of us, individually, upon the act of witness.
For that ancient question no longer exists. The tree that falls in the woods not only doesn't make a sound, we no longer need a tree. Nor woods. The sound occurs either way. Fully corporeal fragmentation within unconstituted denature in the realm of the uncanny.
That is the revolutionary shift in conceptual recodification brought about by the untethered nature of collective simulacra in the mass media age.
The body is no longer a body. The corporeal has gone electromagnetic spectral and the genie can only shake her phantasmic bootie to a hiphop techno beat of imagination in the endless, open bottle of (un)containment.