Friday, April 15, 2011
Ask DB1: Demographic Mating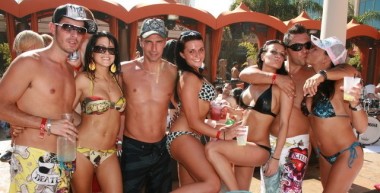 ——
Hey DB1,
Long time reader, first time, um, submitter. Erg.
Actually, no pic for you. Just a question. I'm sure you're aware of all the articles about, well, men being huge failures, women now constituting something like 2/3 of college students, women getting better jobs, etc. I say great.
With lots of (many hot) women floating around, and a limited selection of guys, are we demographically doomed to end up with ever more hot chicks forced to not only pose with and tolerate, but even reproduce with douchebags?
-The Waldouche

—-
Not necessarily, Waldouche.
I believe it was Immanuel Kant who first introduced the notion of "subjective discrepancy," which articulates a discourse of identity outside of an authorial framework.
What this means is that boobies may boobally bounce in disproportionate, or proportionate, ratios, but that cultural variables are independent of such statistical mean averages.
Which means the DB1 has no idea what he's saying, because the 'Train is a'flowin', Red Cup style.