Saturday, April 16, 2011
Ask DB1: Sunglasses on the Cap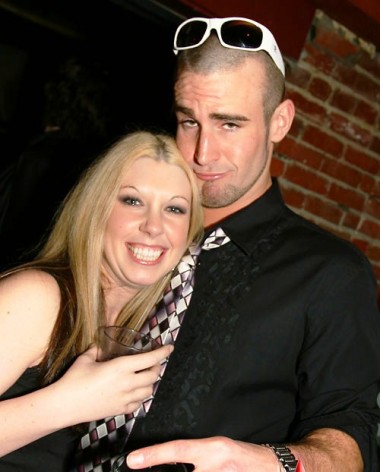 —–
DB1,
Nothing to do with Commie Viet Nam where I am currently on holiday… BUT
It has frequently occurred to me of late that the sunglasses up on top of (usually trucker) hat may have made the social transmigration from garden variety redneck to douchebag signifier.
I have noticed in the last 12 months in real life and photos on the site that amongst crowds of 'bags, sunglasses on the cap sometimes figure in to the scene. Is it? Can it? Could it?
Chris in 'Baghdad
—–
I couldn't find the perfect pic to go with this question, C in 'B (or C in Danang), but the point is a good one.
Yes, the migration of redneck signifers to a form of hipsterdouche is a troubling one worth monitoring in the future.
As to Lawyer Pud, pictured here, Mindy may not be the raving beauty that her sister Loraine is (not pictured). But she's sweet. And will cook you pie. And deserves better than this wily turdrank.