Friday, April 29, 2011
Ask DB1: Woo Hotts in Razorback Nation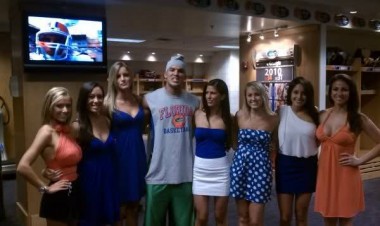 —————-
Greetings, DB1.
I recently made the move from douche epicenter Miami to the remote foothills of Fayetteville, Arkansas, where I aim to study the ancient pleasures of taught, barely-legal flesh.
My question stems from a problem inherent in Razorback nation.
A large part of the social life surrounding a small, secluded college town is sports allegiance, and a large part of showing one's love for the Razorbacks is calling the Hogs.
One calls the hogs using an old war cry passed down from the nation's founding fathers: "Woo, Pig! Soiee!" I'm sure you've already figured out from whence my conundrum stems. This makes every nubile female in the area a Woo-hottie.
Admittedly, the problem is merely an embarrassment of riches, for as King Douchuous has shown, all pretenses are cast aside when tiny-heinie is in striking distance. Or, as it says in the book of Doucherotomy, "Lo though I walk through the valley of the bag, I shall fear no autumn-scented vinegar dilution."
I was hoping you might knight me, your subject, and strengthen me for my one-man war on bags so that I might scale Rapunzel's enchanted thigh and bringing all that is holy back to my chambers for delousing.
I shall not fire until I see the whites of their tan lines,
Poppa's Got a Brand New Bag
————
Woo Hotties in small towns may cry "Woo!" for any number of reasons, as the Wannabe Gatorbag and his Woo Hotties pictured here can attest.
Nor is the Woo Hottie to be shunned. No not even when she utters the annoyingly shrill "Wooo!! Jager shots!!"
For whatever douchadox the Woo Hottie provides through her drunken mating call, the taut suckle thigh beckons. And potential savior status awaits a better tomorrow.