Saturday, April 30, 2011
Comment of the Week: Dude McCrudeshoes's Ode to Kelly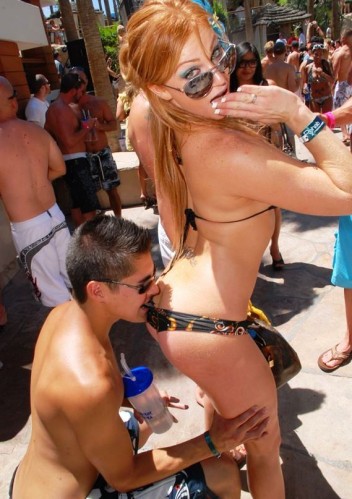 Continuing my new plan to highlight some of the genius in the comments threads, this week's award comes from Wednesday's Martin Expresses His Inner Child to Kelly thread, and goes to 'bag hunter Dude McCrudeshoes:
—————
What went wrong, young Kelly? You were on the debate team, the pep squad, and your B average guaranteed you a shot at community college, though you knew tuition would be a stretch and you'd get no help from your unemployed deadbeat father.
So you took a night job, I'm guessing? The best paying night job in town, I'm guessing? And your dreams of healthcare management went whirling down the porcelain bowl just like the gallons of Coors Lite your patrons piss away every night. Spin on the pole, grind a little, tell 'em how strong and handsome they look and how you need money for your mother's heart surgery, lather, rinse, and repeat.
I'd tell you that I would take you away, and want nothing but to snuggle with you on the couch and watch late night vampire movies… but we both know that is a lie. You'd lie right back to me in the champagne room, and you'd tell me you are only doing this for one semester, and how you never thought you'd want to go home with a customer 'cause you are not like that.
Then the bouncer would tell me I owe $250 for chatting with you all through "Pour Some Sugar on Me" and "Dream Weaver" while you sipped on a $25 soda disguised as a tropical drink. No, Kelly. I'm not falling for it.

——–