Friday, April 8, 2011
Friday Haiku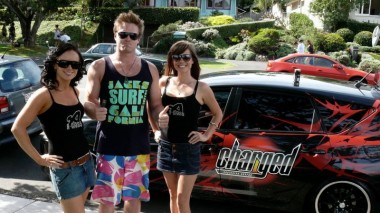 Jack Surfkovsky pwns
Hotts at the "Fast Five" premiere,
Shows them "Lil' Diesel."
Johnny Bravo clone
gets "charged" standing next to hotts.
"Discharge" shows on shorts.
— Dr. Bunsen HoneyDouche
Hotts smile two thumbs up
Old man yells "Get off my Lawn"
Jack walks home alone.
— THEONETRUEDOUCHE
That's a nice car Jack
Nothing says "I am not gay"
like a Ford Focus
— Jacques Doucheteau
Hotted-up Polo,
makes Chad happy, 'til ladies
look under his hood.
— Colossus of Choads
These PTP hotts
definitely "charged" Jack, on
his momma's Visa.
— Mr. White
Jelly Dong Shifter
Mounted on the driver's seat
With 5-point strap on.
— DarkSock
Just because you put
Your monster drink on top does
Not mean you own it.
— ehcuodouche