Friday, April 22, 2011
Friday Haiku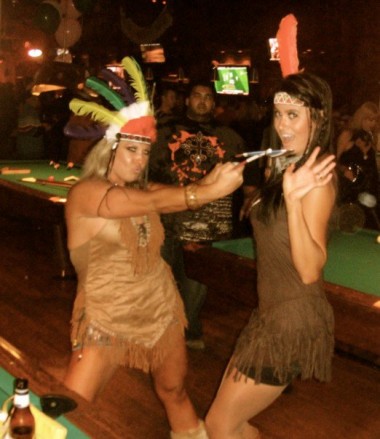 Homie Ralph watches,
As strippers enact story,
Of America.
Here we see rendered
The heart-rending narrative
Of Poke-n-Hump-Ass
— DarkSock
Red feather squeals, no!
As "walks for doughnuts" watches
Please scalp me quickly
— Master Pee
Ralph strokes his short cue
Eight ball in corner pocket
Indians mess with his game
— THEONETRUEDOUCHE
VInce Neil, on the left,
proves that it's better to burn
out than fade away
— Mr. White
Many moons ago,
A tax-free casino rose
Sasquatch bought a shirt
— saulgoode42
First our land. Now our
hotts. Get lousy casino
as reparations?
— Dr. Bunsen Honeydouche
Ralph looks like he stole
a samurai's bamboo breast-
plate…no, he's just fat.
— idfma