Friday, April 8, 2011
Friday Thoughts and Links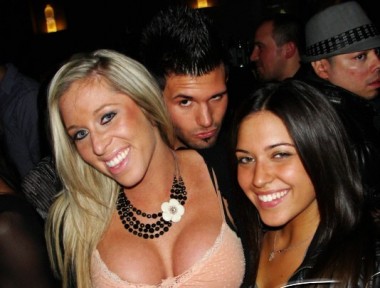 As Friday drifts into afternoon and Los Angeles refuses to warm up for spring, I ponder Melvin Hunting Inflata-Boobies.
Not just this particular Melvin.
All the Melvins hunting Inflata-Boobies.
Did we learn nothing from the 90s silicone years?
Have we not come far from those bleach blonde peroxided halcyon days of economic prosperity and pre-boy-band innocence?
Perhaps not. But we'll always have HoHos.
Here's Your Links:
Your HCwDB DVD Pick of the Week: "The supermodels, Willy? That's all they are. Bottled promise. Scenes from a brand new day. Hope dancing in stiletto heels."
San Francisco chef Russell Jackson has good taste.
Correction: Toni Braxton did not say "I have a big-ass house, three cars and I fly first class all around the world. Some say I have the perfect life." For the record.
American Iranians bust out some Persianbaggery.
Mecha Hineyho Fist Pumps by a homeless guy. Come at him, bro.
Clark Griswold still approves of 57 Year old Hottness. "This is crazy, this is crazy, this is crazy!" (splash)
The only known photograph of a nude Liz Taylor was released after her death, taken when she was 24. It is a tasty slice of nostalgia Hollywood dreamland Cleopatric suckle thigh.
Almost looks like a baby's arm.
More trips down memory lane from the DB1's earliest childhood memories growing up in Boston, the TV ad for the incomparable and wonderful Boston Museum of Science that ran for nearly ten years on local stations: It's Fun to Find Out!
For the Hipsterbags, a new song: I Hate Your Mustache!
Some magazine writer guy theorizes that older men like younger women because of cultural influence. He forgot boobies.
Now before we get to the Pear, lets first celebrate The Hottest Hott in the History of Victorian Furnished Drawing Rooms. Her shakes and shimmies reinforce a belief in spiritual deities of divinity.
And from uberhott shake, we come to Pear:
Your reward for a week of quality mock. And on towards the weekend shalst we traverse proudly, head high and sack taut.