Friday, April 29, 2011
Friday Thoughts and Links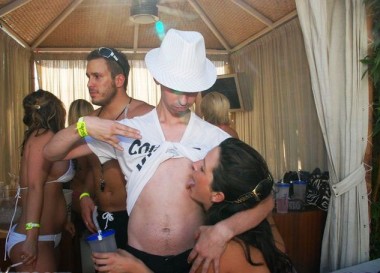 Rare shall we witness the unholy triumvirate of Douche Nipple Lick, Douche Hand Gesture, and Douche Kissy Lips all commingling in one overpriced Vegas shanty town.
Let us hope this image doth not pass before our eyeseth again.
No idea why I'm talking like I'm James Earl Jones's flunky in Conan The Destroyer.
Here's your links:
Your HCwDB Book Pick of the Week: "Feeling extremely foolish, the acting representative of Homo Sapiens watched his First Contact stride away across the Raman Plain, totally indifferent."
The woo hotties from Scott Pilgrim Vs. The World debate why hot chicks date douchebags (starts 1:30 in).
Sure most movies have larger budgets. Actors who can act. Sets. Sound design. Catering for the crew. But where other movies lack in heart, inspiration, creativity and 80s era Dungeons and Dragons memory, The One Warrior pwns them all.
The brilliant Louis C.K. busts some Oldbaggery.
Speaking of quality comedians, here's the late, great Mitch Hedberg at the top of his form.
For those of you keeping up with the story of the douchebag with the monster truck who killed someone outside of a strip club (and you know who you are), here are the latest updates from this breaking story.
'Nuff of that link stuff. Here's your pear:
Chomp. Fondle. Chomp.
For the weekend is uponst. And Adonai looked upon it, and it was good.