Monday, April 18, 2011
HCwDB of the Month
It's a brand new week and your humble narrator is ready to rumble. So lets crank it up. Lets get things poppin'. Lets mock some choad and lust their hotts.
I need you. To bring it. Here's your nominees:
HCwDB of the Month Finalist #1: The Poos Brothers and Terézia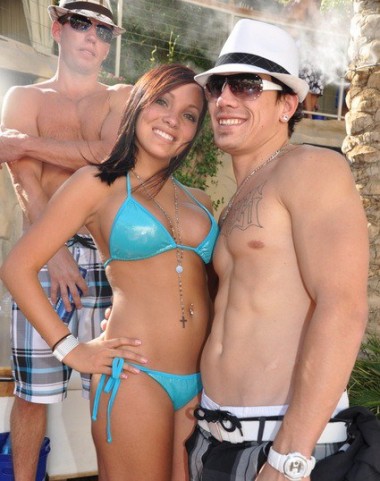 Classic Vegas schroad?
Perhaps.
But the Twinbaggery is stereo, and not just Stereodouchtonic.
The Poos Brothers are bringing the stupid face.
Terézia has brought the creepily yet sexily high belly button pooch belly into play.
Together they form the alchemy of a pure hottie/douchey mixture of frothy alpaca cud.
But enough to win the Monthly?
Lets see what else we have. Oh yeah, this one:
HCwDB of the Month Finalist #2: Minnesota Marnie and Dieter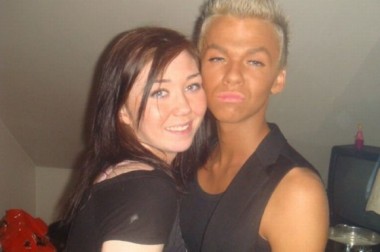 Dieter is so wrong, a euphretes desert gecko named Ron just shed six layers of skin and coughed up a half digested cricket roach.
Which is pretty damn wrong.
If you think about it.
Minnesota Marnie isn't impressed by Hyundais.
But she is impressed by tasty soda pop on television sets.
I have no idea what I'm saying. Lets move on:
HCwDB of the Month Finalist #3: Mister Zebracrotch and Karnie
Oldsack.
Hangs like lumpy oatmeal in the breeze.
Marnie wants money.
That wasn't a haiku. It was simple truth, W.H. Auden style.
Because when people mess with me, like Zebracrotch embracing quality lady kind, then I bust the ole' English poet inspired quality smackdown free verse.
Like 8 Mile.
Only with more Longfellow.
Speaking of Longfellow, where's Bubbles? Maybe she can help me straighten it out.
HCwDB of the Month Finalist #4: The Tardopoulous Brothers and Stephanie McGee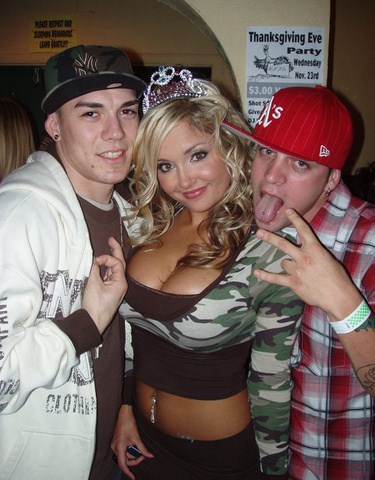 The second of our two Tag Team Douchers in the Monthly Finals, the Tardopoulous Brothers are East Coast "Brah!" pudwankery.
In fact, Vegas oddsmakers figure they might split "bros" the vote, letting one of the other nominees slip in for the win.
Are the oddsmakers correct?
Or can the tonguey punchworthiness of the Tardopolous and the tasty boobie bouncy of Stephanie McGee triumph (lose)?
That's where I need you to come in.
Only one of these four can make the Yearly.
And it must be the best, choadiest slice of wrongness of the four.
Which rises to the top (bottom) of the pile?
Vote, as ever, in the comments thread.