Monday, April 11, 2011
HCwDB of the Week: The Tardopoulous Brothers and Stephanie McGee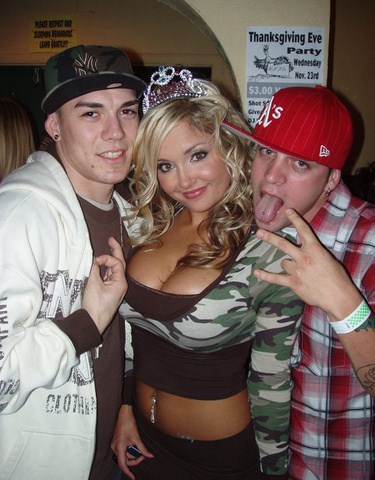 Another tough week to pick a winning (losing) couple. We had Sportsbaggery and Hipsterbaggery. An Afflicted Gnome and an Otterhead. A Happy Rocker and Toxic Groin Shave Reveal.
And, for the hott side of the boobie hottie suckle thigh, the Crazy Eyes craziness of The Carla Cousins.
But no cohabit more perfectly encapsulates mock worthy tardation and curvy bouncy suckle thigh than the Tardopoulous Brothers and local Ace Hardware Beauty Contest winner, Stephanie McGee.
Our last entrant before next week's HCwDB of the Month, The Tardopoulous Brothers are a fine example of Wonder Twin cloning douchery replication technology in action.
Stephanie McGee has an annoying voice but her bouncy waist sways are hypnotic hipnotics.
Together, they make a fine entrant in the Monthly and a reason for our Crusade to continue, unabated.
And so we mock onward. And your early morning humble narrator shifts his groinal area to prevent sweat and chafing, and heads for the kitchen for a bowl of Pops.