Thursday, May 26, 2011
A Scrotal Wrinkle in Time: A White Paper By Jacques Doucheteau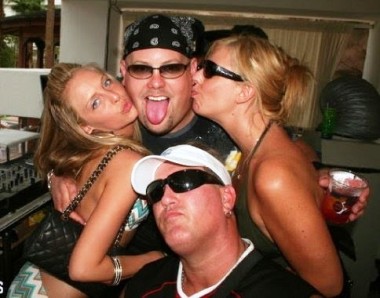 HCwDB Comments Thread Regular (and overall deeply disturbed person) Jacques Doucheteau delivers a scientific dissection concerning the Unbearable Slightness of Douching. Take it away, Jacques:
The laws of causality dictate, as Hume defined, that "cause and effect must be contiguous in space and time", and that "there must be a constant union betwixt the cause and effect."  This particular scrote ridden scene as subject of our exploration of causality as a product of existential determinism can best be explained by using the Einstein-Minkowski light cone in special relativity as a model.
The frame of reference within the picture is a snapshot in time.  A single event of pudwankery as viewed by the casual observer much akin to a flash of light on the three-dimensional plane of present spacetime.  Just as a flash of light spreads out through space over the course of time, best imagined as a four-dimensional cone spreading out into the future from the singularity of the event in the present, past occurrences contract in radius until it converges to a point at the exact position and time of the event.
What past events led to the exact circumstances, or cause and effect, of this captured flash of douchey light; and what does the hyperbolic partial differential of its effect have on future events?
For instance, A vast array of materials and actions stemming from the organization of hydrogen atoms over billions of years into base elements and indeed the organic matter and ingenuity that labored to create the complex electronics of the twice used DJ mixer.  Following the event is it's opposing future of being traded for an X-box, years of sitting in a pawn shop, and eventually being broken down into scrap metal to be re-manufactured into countless iPhones' circuitry.
Just our viewing of the image, and the rage we experience seeing yet another pair of shoulder nuzzle cuties forever sullied, alters the causal relationship of events within and indeed expands the sphere of this specific event's influences.
One can't help but contemplate the complicated history of the mini grow room venting into the neighbor's back yard, and even the recently empty drink perched upon it, and their equally complex futurity of floating mold and narc unit raids.  Mandana Dave's strep infested Long Island Iced Tea and tongue.  Mandi's heroin arms and unnaturally contorted neck.  The malnutrition forcing Kristi to frantically suck the nutrients from Mandana Dave's infected ingrown hair.
The mind boggles.
– Jacques