Tuesday, May 3, 2011
Ask DB1: The Chicken Or The 'Bag?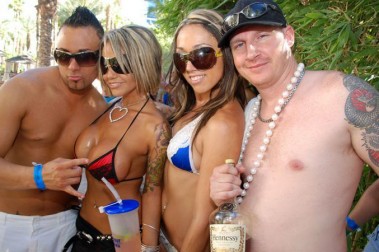 —————
DB1,
A question occurred to me just now as I watched a man, clearly a Douche, perform a simple task of crossing the street.
Then I thought about such simple philosophical questions as "if a tree falls in a forest…" and "which came first, the chicken or the egg?"
The guy I saw today that gave birth to these Douche questions was crossing the street, all Douched out, wearing oversized aviator sunglasses in the middle of a downpour, plus other hallmark Douch Marks, such as Ed Hardy wear, Scrotal facial hair, etc.
First, one can assume that the Douche is sentient, using the Cartesian proof "I use Axe body spray, therefore I am" [From the latin, "Axeio, ergo sum"]. We may also assume that the Douche has acted with intent: they are clearly getting near hot chicks, as DB1's weblog most painfully demonstrates.
Then I thought of a similarly perplexing question: Does a Douchebag know he is a Douchebag?"
The mind reels.
Jamie

——-
The moment at which 'Bag becomes self-aware, as with Skynet before it, is the moment the war enters a new phase in our epic battle for boobie hottie suckle thigh.
Self awareness, of course, does not mitigate 'bag status.
It is, as I've pointed out before, simply another strategy to deflect critique while appropriate the tools of the 'bag arsenal in targeting the hott.
Mocking must continue. Oh yes. With tasty Hostess snack treat breaks allowed every four hours.