Saturday, May 21, 2011
Say Hello To My Little Fran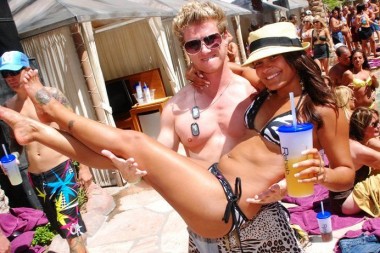 Yeah, yeah; I know. The Boss ran this pic already for a Saturday "Comment o' the Week".  Well, I shall not presume to put myself in a position to select the best of last week from my peers (and by "peers" I mean those with whom I pee), so I figured this would be a good chance to circle back and hose some mock upon the photo that accompanied DB1's award, since the choad in the pic was largely ignored as we heaped accolades upon the best of that week's mock.
Nope; this guy, whom I tag as Tony UnTanna, ain't gettin' off with his pale hide intact. Not that easily.
Because I pine for Fran.
All Tony UnTanna has in this world (besides SPF 90) is his balls and his word.   And he don't shave them for no one.   But she still does not want to see his "Little Friend".
And, with apologies to Levon Helms, I would gladly take a Choad off Franny, and put a load right on her.