Wednesday, May 18, 2011
Does This Look Infected? (Medusa Oblongata Editorial)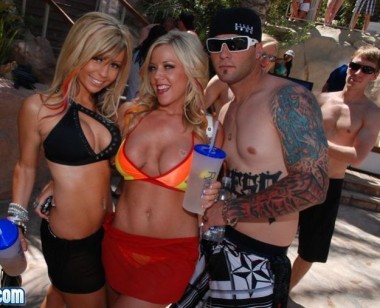 And now we have a public service message from our very own Bubonic Gorgonic, the loverly Medusa Oblongata:
Douchal infection, we posit here at HCWDB, starts at the very core.
Like a rot, it spreads slowly from the inside, killing all that is good and alive and pure, blackening like a mold, decaying, necrotizing what it intercepts. What happens, then, when this parasitic intruder reaches the surface of its host?
So begins the changes to the exterior, the addition of what are known the adouchetrements. However, mere accessories belie the sinister nature of this malady. For here we see true douche as manifested in lesions of the skin. Huge patches of nonsensical skin irritations that indicate the level to which the internal infection has progressed. In this case, severely. Even across the belly of this beast, we can see the warning that he reeks of cheese.
And woe, to you, Jennifer-Love-Hewitt-in-a-blonde-wig-hott, and your friend Jenny McCarthy hott. For your proximity to this specimen imperils your own bodies. Boobytanheart is already evident, as is excessive hair bleaching. The answer to this scourge is not to pose with these ass clowns, but to get naked, rub one's self in protective liniments, and arm one's self with a flame thrower.
The smell will be horriffic, but the salvation of bubble boobie hotts is worth any price. We here at HCWDB are happy to assist any and all succle thigh hotties with training, specifically the part about the rubdowns with protective liniments.