Friday, May 27, 2011
Friday Haiku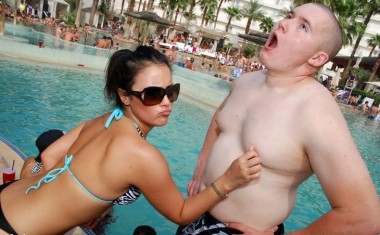 Dialing in the sounds,
Jen's pale human boombox has
Rectal subwoofer.
Ahab's grandaughter,
Pinches nipple of White Whale,
Moby's Dick gets hard.
– Hermit
We have brotha-bags
Hipster-bags, All kinds of bags
Is this Farmer-bag?
– Franklyn DealorNo Doucheifeit
Chazz Bono's pool time
Causes others to throw up
"Pool Closed- Ten Minutes"
– Vin Douchal
Albino walrus,
Lets loose with a mighty roar,
Where is my seal club?
– Rockabilly Johnny and the Electric Foreskin Benders
Check out this jukebox
you twist his nipple to play
but it's all Great White.
– Medusa Oblongata