Friday, May 13, 2011
Friday Thoughts and Links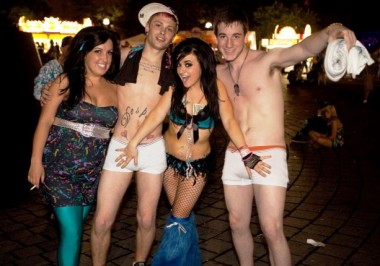 As I meditate and ruminate on the paid to pose party girl and the undies wearing "not as interesting as they think they are" collegiate uberschlort, I sense myself being called away.
On a mission.
A monastic retreat.
A journey to the hills of Uttar Pradesh to reconnect with my sherpa and my teacher on the art of 'bag mock and hottie lust.
Penance for sins against my meditative and monastic hottie/douchey journey.
I have sinned. For I have coveted the Bleeth.
And have not mocked douchebags with proper linguistic assault.
What will I discover on this outer journey of inward soul? New ways of tracking Grieco Viral spread. New adjectives to describe The Holy Cleavite.
Enlightenment will come. Oh yes, it will come.
Here's your links:
Your HCwDB DVD Pick of the Week: "Hey, no problem. Just a couple of clean American kids experimenting with sex."
The real reason Cobain killed himself.
Nu Thang. Jesus' De-light.
Eagle eyed reader Jim Beam looks out of his car's windshield during rush hour one morning and discovers he's driving behind a Bro Wagon.
Failblog tags A Dude with a Louis Vuitton tatt. The next step in douche-wear.
Reader Concerned Mother sends in pics of her seven year old daughter's troubling douchebag dolls. And even more douchebag dolls. This is a disturbing trend that warrants monitoring.
From The Onion Sports Network: UFC Fighter Has Idea for a T-Shirt With a Bunch of Shit On It.
My hometown, Boston, prepares for the annual Slut Walk. Power to the people. And boobies.
What more must we do to complete another successful week of Mock? Oh, that's right. Your serving of pear. Enjoy:
Unfortunately not named after our comments thread and Hall of Mock regular, Wedgie. Or is it?
Go forth and celebrate the Pear. For it is chomp. And the weekend has begunst.