Friday, May 20, 2011
Friday Thoughts and Links with your guest host DarkSock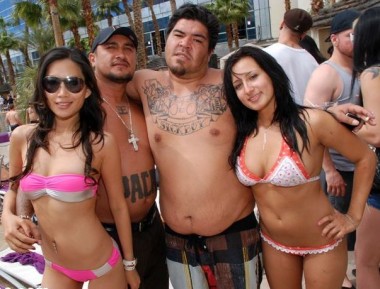 It is Friday here along the Gulf Coast, where we wait for the storm surge in reverse that shall soon be pulsing out of the urethral tip that crowns the turgid prong of the thick  fat Mississippi River, spewing it's engorged payload into the sodden grotto that is the soft yielding Mississippi Sound.
The Magnolia State has, in just a half decade, endured monster hurricanes, tornado bludgeoning, Limey oil spills, 100-year river floods, fire ants and Trent Lott's perfect helmet of hair.  And we, as a hard-working (albeit fairly obese) people, raise our hairy fists to the sky like fleshy anntenae and wail:  "O Lord…why hast Thou not visited these plagues uponst New Hampshire?  What be-eth up with that?"
And yet my thoughts wander aimlessly to the fate of DB1; yea, my musing wanders much like Douchebag1 himself. He has become a Flying DoucheMan, doomed to wander the alpaca-strewn misty Peruvian Peaks, with a bow-legged sherpa named Jorge who wipes his nethers with a sweet potato-shaped pet rock named Juan Antonio Pezet; a rough twisty stone who speaks to his bent and psychotic master in an abusive guttural voice as it barks to way of that invisible yet shining path that our wandering menstrual DoucheBag1 seeks. A higher spiritual plane of atonement and Bleethe bonement, where hilarity rodhams the clinton of baggery; a journey deep into the mists of self-discovery and enlightenment.
DB1, I do not know if you are in a place where you can read this, but if you are, let me give you this message of love and support. From Big Al Pacas, the dude with the belly tatt in the "Los Homely Boys" photo above:
"Yeah, you can tell that sumbitch DB1 that he's still into me for 5k worth of alpaca goods, and if I don't get paid pronto then my cousin Fat Tony's gonna be into him; namely his kneecaps. Wit' our friend Mista Claw Hammer. Love, Big Al Pacas (sole proprietor of Organic Alpaca Nutrition – Your one-stop online store for all your llama and alpaca butchering/lubricant supplies)".
Go deeper into the mist, Boss…wayyy deeper…
But enough about DB1's account receivables issues; here's your Friday links:
Your HCwDB video pick of the week, based on these two magic words – "Drill Bra".
Your HCwDB recommended reading of the week:  Go The F*ck To Sleep.
As ruthlessly efficient as Seal Team 6 was in dispatching Eternal Douche Osama Bin Laden, they were sadly too late to save the tiny one-eyed infidel living in Bin Laden's shorts from severe and repeated lotion-boarding sessions.
Alert Reader Mr. Scrotato Head passes along news of a Solo plastic cup plant's closing. Could the death of the Ubiquitous Red Cup be an indicator of the tide turning in our War on DoucheBaggery?  Or is it the canary in the coal mine warning us of a downturn on partying of all kinds, fist-pumping or not?  We will track this carefully…
To Hell with pouty self-absorbed silicone-bulging bleethes who waste their fleeting youth trying to sulk like the magazine models and skeeze free drinks in clubs. I dig silly chicks.
A plea for help from long time MIA baghunter supreme BCS; namely, to help him loop his toe around the trigger of the shotgun in his mouth so he can Cobainically escape his own personal Courtney Love.  Warning:  It. Never. Ends.
Speaking of BCS, who was one of the funniest regs ever to visit the legendary comments section of this site, here's one of his better links he shared with us. And one of the few that didn't make you want to twist out your eyes with bleach-marinated forks.
So you've been invited to Baron Von Goolo's (stolen) baby shower, but what to give the little tyke?  Why, Pikachu/Cthulhu, that soft and plushy eater of souls, of course!
Ah, Hell…as if you fugs actually read the blather above instead of scrolling straight to your just desserts; namely, Ass Pear. Hell, I'll even save you the trouble of having to click a link. Since I can't figure out how to do a link.
Today's theme is an architectural one…I give to you…COLUMN ASS PEAR!  Enjoy!
EDIT:  Apparently today's offering is Déjà vu Pear.  So, I offer you these Bonus Buttocks as penance:  Side Pear LaPlante!