Monday, May 23, 2011
HCwDB of the Week
Well, another week rolls by and still no word from DoucheBag1…looks like I got the gig for another week (maybe longer, if Big Al Pacas got to him…).
Let us take a moment to reflect what sent him on this quest for spiritual cleansing. Looking at the evidence found in his apartment, it would be easy to simply label this as just another sugar and fortified-wine-fueled alpaca fingering binge resulting in a desperate flight from justice and past due invoices.  Because who among us has not molested livestock?
But no, no…something tells me it's more than just that.  I revisited one of the last emails DB1 left us:  "I feel myself being called away…penance for sins against my meditative and monastic hottie/douchey journey.  I have sinned.  For I have coveted the Bleeth."
Well, hell…I reckon we need to be chartering a group flight to the Andes mountains.  And they better switch out the little airplane bottles of booze with pints.
Enough introspection; it's time to pull our chins up, tape our dongs flat, and sashay out onto that runway, because the show must go on.  Note to self: shave next time before taping.
Here are your contenders:
HCwDB of the Week #1: Country Molestern and his Reversed Cowgirls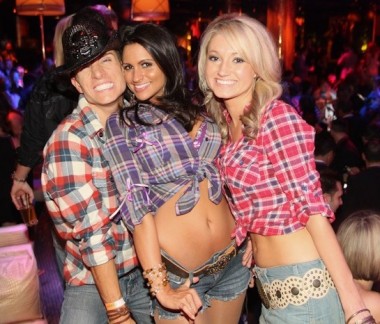 Long Time comments thread regular Mr. White showered his golden derision on this grinning woodchuck; yet he leers on. Which begs the question: how much pud would this woodchuck tuck if this pud-tuck could suck wood? And lawd ha' mercy, look at those country fresh girls…why does HE get to butter THEIR biscuits?  If you are enraged by this corn pone-ography then scrote the vote.
HCwDB of the Week #2: Toolio Twice and Siam Suki
Another HCwDB comments thread lifer, Creature, puts the cheese grater o' justice to the glistening forehead of club foolio, Toolio.  What is the backstory here?  Fivehead convention?  Class Action Lawsuit Seminar for Victims of Aggressive Forcep Administration at Birth? Elephant-Kegeling Victims?
It is not for us to know; we must judge with the evidence at hand.   Which would be Suki's Siamese Twins.
HCwDB of the Week #3: U.S. Olympic Synchronized Nodding Team and Grecian Greta
Perhaps this phenomenon can be explained by science: perhaps we are witnessing Newton's law of universal gravitation, which as you all know, states that every point mass in the universe attracts every other mass.
Separately it was shown that large spherically symmetrical masses attract other objects to concentration points at their very centers.
These choad's empty pie cases are collectively bearing out this law of physics, being pulled inexorably to the large spherical symmetrical masses (with points on them) that are Greta's nigh-perfect golden globes.   Yes, they are being sucked into this gravitational well of silky delight.  As are my eyeballs.  And yours.  Admit it.
Yes…perhaps this is what is going on here.
Nah, they're just a bunch of room-temp-IQ Roxbury chicken-necking peacocks.
HCwDB of the Week #4: Larry the Lavender Love Lizard vs. The Doublemint Chins
Larry the Lavender Love Lizard (or L4, as I think of him) hopes to pull out a come-from-behind victory.
But Jan and Jenny Chin-Chin are prepared to take it on the jaw.
Will this dark horse trio pull off a surprise victory?
Does L4 have purple dander?
Will the girl's Uncle Robert roll up and beat Larry into pieces too small for the pool drain strainer to catch?
That, my friends, is up to you.
Go forth, my friends, and vote as ever in the comments threads.  Alternate Universe votes count too for you serial picture-clickers.
EDIT:  Also, some shop-keeping:  If you are a reg sitting on a pic, your deadline is Wednesday to slip me some wool or let someone else have a crack at the tool whose fate you currently hold in your inbox.  Or else I'll be force to fill the latter part of the week's posts with nothing but Ass Pear.
Somehow, I think the Ass Pear filler threat may be counterproductive…