Monday, May 9, 2011
Jacques Doucheteau Tags Señor Pud-a-Bator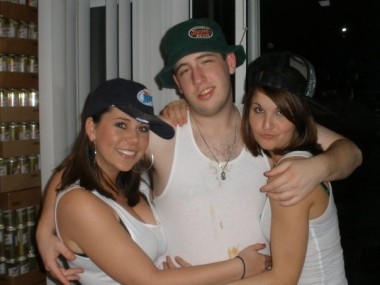 Reader Jacques Doucheteau provides the tag as well as the commentary:
————————-
Holy effin' kee-rap! That is a LOT of Miller High Life!
The Cheesy Gordita dribble stains down the front of of Señor Pud-a-bator's wife-beater makes this scene of debauchery all the more enraging. And what's with the tiny dog tag bling? Did Diesel start selling micro-dog tags for $80 or is this guy fifteen feet tall?
And oh, Stephanie and Jamie.
Jamie tries her best to looks sexy for the camera with her kissy-face duck lips, knowing full well that in twelve years time her three kids and diabetic cankles will reduce her romantic life to Passions and court TV with the occasional craigslist one night stand.
But Stephanie unknowingly beckons my penile acquiescence with her oblivious smile, matted eyeliner, and nose piercing her friend gave her one night when they were, soooooo drunk (giggle). Mmmmm, Stephanie.
I would zip-line using my own scrotum, bear-ass naked though a dense metallic dildo forest with a rare earth magnet imbedded in my colon, just for the mere opportunity to lick Sbarro pizza grease off the counter of the Claire's store she bought those ridiculously gaudy hoop earrings at as part of a buy-2-get-1-free promotion.
Damnit, I need to get out more.
– Jacques Doucheteau
——