Thursday, May 19, 2011
Out Caste – A Study in Societal Stratification: by Crucial Aloysius Head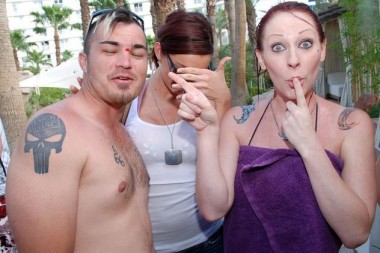 The great philosopher Confuse-us once opined that the Douchebag Society has, since ancient times, adhered like donkey jizz to a complex hierarchy of tribal communities commonly referred to as an "Out Caste" system.
This system contains many levels of Scrote which have been detailed in full throughout the Holy Scriptures.
In this case, we see a devout member of the Out Caste system, Franklin Stein suffering the humiliation of letting his Bindi slide from Bra!man status (typically located between the eyebrows – directly in line with the mark of the bag), to the lowly Fungtouchable state (Bindi between the eyes – facial fung multiplying at an alarming rate).
Now that partially medicated Mary and ashamed Shelly have seen the folly of Franklin's ways, mayhaps they'll feel more at ease by joining me for a moment of Tantric respite on my yoga mat whilst I ply them with real comic book legends like Captain Haddock, Professor Calculus and Tintin.