Wednesday, May 25, 2011
Peter Pumpin'Head and Mary Mammageddon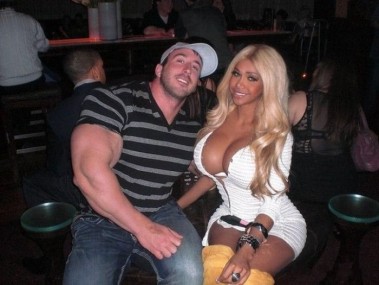 Exaggerated ex·ag·ger·at·ed (v) 1. Enlarged or altered beyond normal or due proportions.
Ludicrous lu·di·crous  (adj) 1.  Amusing or laughable through obvious absurdity, incongruity or exaggeration.
Grotesque gro·tesque (n) 1.  A very ugly or comically distorted figure, creature, or image.
Wow. Just Wow.
So…I remember the time as Wee Sock in 1978 in the outskirts of Town when Momma took me to the "California Concept" barber shop.  It was a classic late-70's "butt-cut" hair-do factory (think Bruce Jenner, or Jackson Browne) and I was there to get a "big boy" haircut.
As I sat in the chair I faced the mirror in front of me, which reflected the wall mirror on the cutting station opposite me, I realized that I could see myself stretching on into an infinite reflection between the two grease-sheened surfaces.
I ponder if that's what's going on here.  Peter Pumpin'Head and Mary Mammageddon: two textbook narcissists, staring into one another, not seeing the other but rather themselves refracted off of the slick glossy sheen of their own ego; their strutting ids run amok, flexing in the funhouse mirrors of each other's thin magazine-glossy souls.
Peter Pumpin'Head does not see Mary"; nay.   Rather he envisions himself strutting into the night club with this uber-candy on his swole-assed arm; all heads turn to look…at Him.   Egoasm!
Same for her; bounce into the club with heels high and blouse straining, all heads turning, aaand cue the silicone dome theme song:
My milkshake brings all the boys to the yard,
And they're like –
"It's better than yours,
Damn right it's better than yours…"
Ah, but yes.
If you will excuse me now, I must go stick my head into an oven.
A toaster oven.
Do what it is that you do, my comrades.  Existentially dissect these specimens for answers.  And by "answers" I mean "giggles".