Tuesday, May 10, 2011
Reader Mail: The Unifying Principle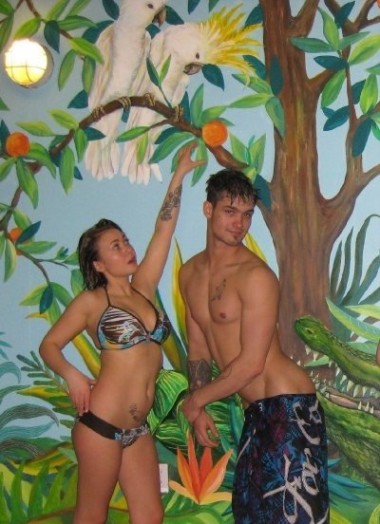 Reader Charles Douchewin writes in with an academic biology perspective:
——
DB1,
I'm finishing my PhD in evolutionary biology, a process from which I find occasional escape at HCwDB.com. During quiet moments here in my academic ivory tower, and by ivory tower I mean roach-infested storage closet of an office, I casually ponder both pear and the evolutionary dynamics of douchebaggery.
The hallmarks of baggery are easily recognized (Louis 2008) and may be influenced by elements such as product branding or sexual selection (John-from-Vegas 2009; Sir-Hate-A-Douche 2010).
However I suspect the origins of douchebaggery, as you have suggested (Louis 2007), lie within a more unifying principle.
Recently, a reader at HCwDB.com asked a particularly insightful question "Does a Douchebag know he is a Douchebag?" (Jamie 2011).
I propose the answer is No, and it's here that a unifying principle may be found. Self-deception, particularly as articulated in Robert Trivers's evolutionary theory of self-deception (Trivers 2000; Trivers 2002) could explain the douchadox, and become a central element supporting a Douchebag theory.
Trivers proposes; "For a solitary organism, the prospects seem difficult, if not hopeless. In trying to deal effectively with a complex, changing world, where is the benefit in misrepresenting reality to oneself? Only in interactions with other organisms, especially con-specifics, would several benefits seem to arise. Because deception is easily selected between individuals, it may also generate self-deception, the better to hide ongoing deception from detection by others. In this view, the conscious mind is, in part, a social front, maintained to deceive others — who more readily attend to its manifestations than to those of the actor's unconscious mind." (Trivers 2002)
In essence, the douchbag or baguette is so deeply unaware of their own douchieness that potential mates interpret the douche's projections of self importance as honest signals of fitness. Such a Douchebag theory appears consistent with a multi-stage progression of douchebaggery and of course, the existence of oldbags.
If indeed douchebags are victims of their own mind – they deserve our sympathy. And by sympathy I mean mock-induced cognitive dissonance. So in a world without a total perspective vortex device (Adams 1980), which may or may not be helpful anyway (depending on your perspective) I encourage the mock, at least from an escapable distance.
— Charles Douchwin
References:
Adams, D. (1980). The hitchhiker's guide to the galaxy. New York, Harmony Books.
Jamie. (2011). "Ask DB1: The chicken or the bag?" Hot Chicks with Douchebags.com
John-from-Vegas. (2009). "Ask DB1: Blaming the Bleeth?" Hot Chicks with Douchebags.com
Louis, J. (2007). "Rodin's The Doucher Revisited." Hot Chicks with Douchebags.com
Louis, J. (2008). Hot Chicks with Douchebags, Simon Spotlight Entertainment.
Trivers, R. (2000). "The Elements of a Scientific Theory of Self-Deception." Annals of the New York Academy of Sciences 907(1): 114-131.
Trivers, R. (2002). The Elements of a Scientific Theory of Self-Deception. Natural selection and social theory : selected papers of Robert L. Trivers. New York, Oxford University Press: 271-293.
————–