Tuesday, May 17, 2011
Running Without the Goose (Reverend Chad Tent Revival Edition. Son.)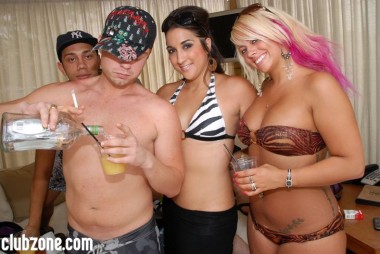 HCwDB regular and dimensional hypernaut Reverend Chad Kroeger touches down on Earth long enough to deliver this payload of bring-down:
Although a wretched and buzz-harshing picture, Snor and friends here show the downtrending of douche signifiers to the fringes of society. As civilizations rise and fall like so many Peloponnesians, so do trends and Snor's moods. Snor think he's a player with his gaudy ring, infected flab shave reveal, flea market Ed Hardy cap, obligatory wingman Yankee Matt, girlie drinks, and chin fungi. Snor is wrong. Snor is sleepy from a high glycemic index.
When you are the assistant road manager for Insane Clown Posse it is very difficult to combine Vegas flash with the VIP pop-up trailer. No Goose and Red Bull drinks here. No bolt on Vegas hotts. The drink is XXX and Faygo for the bros and Jugaloo hotts, and by hotts I mean Beth and multicolored Jenny.
Beth used to have a great job as a greeter at a Hyundai dealership in Nevada until she ran away with Jen to follow the Clowns to every festival they headline. They left with just the bikinis an their backs. As they are the tastiest Jugalette's at every show with their trashy clothes and insatiable appetite for sugary soda, Snor and Matt have no other options here than the old regulars for a go. Snor told Matt they were really hot last year when they were 17 and only had two kids each frolicking in the putrid festival mud/toilet. But that Faygo hides the remarkable bodies they arrived in. And that thing on Jen's tummy is not a tattoo, just sayin'.
As the good Virgil causioned Dante at the gates of hell, "Do not ye effort at escape or attempt to look like a douchebag, or ye become ons't with them".
Good luck Snor and Matt, I would rather finger Cee-Lo Green's constipation than be you. And I will ponder that while I dive into another drunken day and dream of Wanda Sykes. Put on a fuccken shirt Snor.