Monday, May 16, 2011
Scarf Face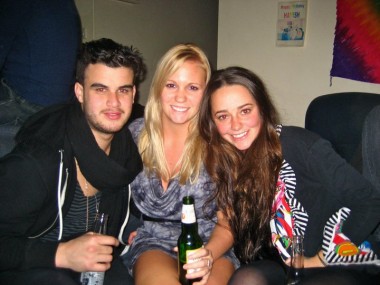 The S.S.B. (Stolen Sister's Blouse) that Scarf Face is sporting is in and of itself sufficient cause to be flogged about the head and neck with a flail made of a mop handle with a half dozen dead lampreys stapled to the jagged broken head.
But that…scarf…the so-called keffiyeh worn by that most insufferable of all bags:
The HipsterBag.
Allie, Keisha…can you not smell the sopped rancid neck-cheese encrusted within this tragically cool trend-squatter's woolen folds? I implore you both to empty your lagers into his woven commode seat of a keffiyeh, saunter into the furthest empty bedroom, away from the pseudo-intellectual arguments between young men tragically attempting to grow wispy bears, clad in high-water pants and girl's blouses; yes, creep away from the tinny strains of the new "Starry Saints" vinyl being played ironically on an old plastic child's phonograph; avoid the maze of old "Spin" magazines and soy latte stains that landscape the carpet; slip beneath the sheets, unwashed since Mom's exasperated cleaning visit last Thanksgiving, and just do what comes naturally. Which is, of course, to start a mattress fire and ease quietly out onto the fire exit.
I beg this of them.  What would YOU have them do, fellow Bag Hunters?