Sunday, May 22, 2011
Sunday Pear: DoucheyWallnuts Crypt Sweeper Edition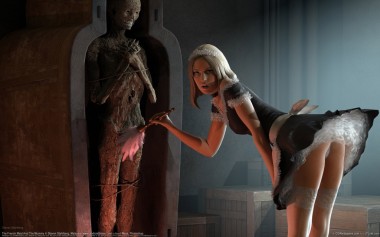 Alert HCwDB comments thread regular DoucheyWallnuts gifts us with this Pear breakdown:
"This is a promo picture from the direct to DVD movie, "The Crypt Keeper's Pear; When Good Things Happen to Bad Mummies," and not a photo of Steven Tyler and one of his groupies taken backstage at American Idol.
It also isn't a picture capturing the tender moment when Steven Hawking's nursemaid removes the catheter from his pee-pee and cleans him up.
Nor is it Keith Richards engaging in role-playing with one of his teen-aged daughter's friends.
Actually, it's not even a photo from the outstanding "Crypt Keeper" series of films. I made that up.
The owners of this Intellectual Property had the good sense to quit while they were ahead, and let the 1996 classic, "Bordello of Blood," starring Dennis Miller and featuring douchebag-for-life Corey Feldman, speak for itself.
But I digress… While I can't imagine any reason for this photo to have been conceived and then set-up and taken, ultimately it is a picture that proves the point that no matter how ridiculous and haphazard the juxtaposition of the elements are in a photo, that men will ultimately focus in on the ass pear in question.
It's all about the ass pear;  not the Benjamins, the ass pear."