Monday, May 16, 2011
The Boss is Lost, Al's Pacas, and oh, yeah…the D'bag o' the week!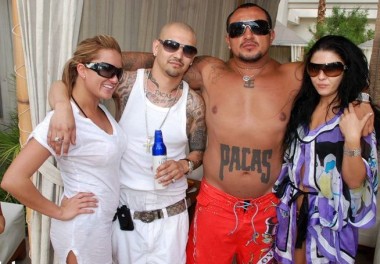 DarkSock here.  In case you didn't tune in Sunday (from fear of Frolic Exposure) you may have missed the notice about DB1's sudden departure upon a journey of spiritual awakening; a walkabout to gain enlightenment and penance amongst the feral unshorn alpaca herds grazing in the mist of the Andes mountain ranges.

Walkabout and penance my ass.
So I'm trolling through the Boss's filthy apartment, pawing amongst the strewn Ho-Ho wrappers and kicked-over half-emptied bottles of Trader Joe's Blood Orange soda (which faintly smell of rubbing alcohol…) looking for pictures and passwords so I can keep the fight going on this site.
Among the yet-to-be posted pictures I also find death threats from Doc, a monogrammed pair of men's briefs emblazoned with "Plinky", the skeletal remains of a Jack Russel Terrier, a subpoena from the Llama/Alpaca Vice Squad Task Force of the Florida Fish and Wild Life Commission, and most disturbingly: a past-due final notice from Big Al Pacas (pictured here), proprietor of the North American chapter of M.A.I.L. (Man-Alpaca Integration League). This "notice" is hand-written on college-rule notebook paper in jagged angry font rendered from a fury-blunted Sharpie marker, and it states that either DB1 coughs up the $5,200 owed in alpaca feed and llama lubricant or Big Al Paca will be forced to send his cousin Thick Vinnie "Shit" Paca over to adjust some external genitalia with his pet snapping turtle.  And yes, that is a euphemism.
But my irresponsible conjecture matters not, only DB1's parting words: "For the 'bag mock and hottie lust must continue, unabated, in my absence."
Fear not, our soon-to-be-gelded leader. Those Hotts will not go unabated; they will be bated until our elbow bursitis returns yet again.  GodSpeed, DB1; may you gain enlightenment while avoiding getting sticky alpaca poo on your new hemp sandals.
To that end: let us select the Hottie/Douchebag coupling of the preceding week.  Yeah, for a limited time we're going back to the Weekly Vote; because I cannot shoulder such an awesome burden of selection alone.  But I can count votes whilst suckling a bottle of Beam like it was the fiery red teat of the First Mother Alpaca.
Here's yer choices:
HCwDB of the Week #1: Ball State Kevin and Party Girl Kelly.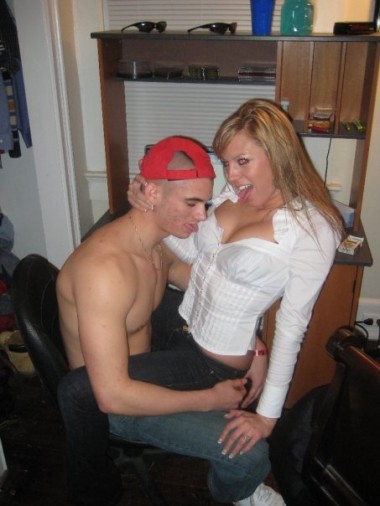 Ball State Kevin attracts Sex Kitten and Party Girl Kelly's woo-hottiness into his Sauder-Woodworks-appointed dorm of inequity to do laws only knows what…perhaps change his ball state from blue to empty?  We must not imagine ourselves into a ball state of despair.  But it ain't easy.
HCwDB of the Week #2:  Bird Poo and Sweaty Sally, as witnessed by Natural Nina.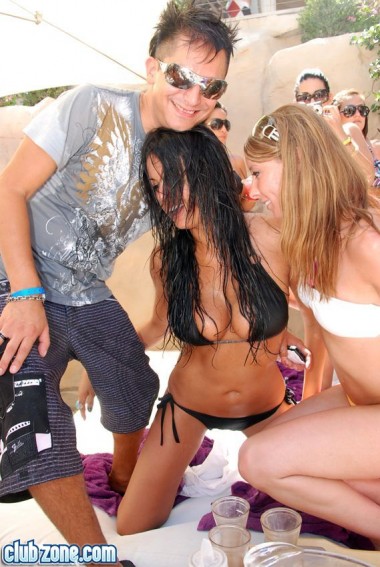 I would give many things in order to wipe that moon-pie smirk off of Bird Poo's mug. But Sweaty Sally's soaked beach towel would not be one of them. I would fight off a sickened grizzly using only it's own loose scat and a VW fender if that's what it took to carry her soiled beach blanket around like a perpetually engorged Linus. While Nina watched.
HCwDB of the Week #3:  Chimpy McWhack and Kneeling Kelly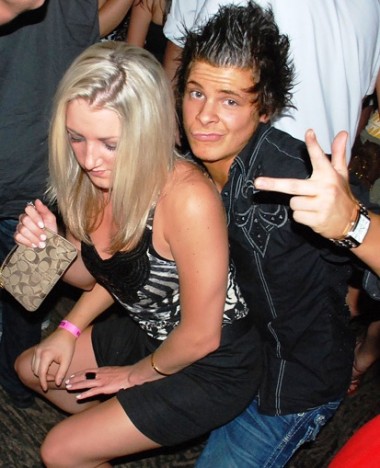 Why, Kelly, are you in proximity to this Ben-Stiller-Simian-Simulcrum? I hope against all hope that this coupling is due to a mix-up involving Ambien, a full bladder and his uncanny resemblance to a bidet.
HCwDB of the Week #4: Jimmy Pud and Mandy.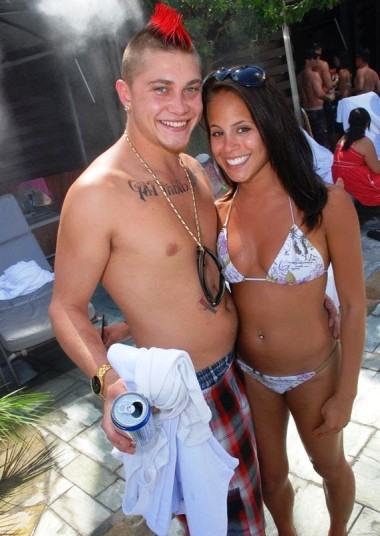 Jimmie Pud clearly got a Freudian idea whilst using a flat head screwdriver during shop class as he worked towards his doctorate at the Tallahassee Community College Campus. But lovely Mandy prefers Philip-Heads.

This is your Rogue's Gallery for this week.  Vote, as always, in the comments threads, where I shall skim them, pretend to count, and pick my fave anyway.