Monday, May 23, 2011
The Coping Cabana – A White Paper by Hermit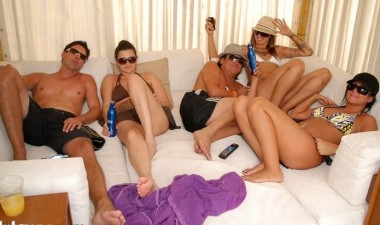 Zen BagHunter Supreme Hermit delivers this cold-ass take down:
If Vegas is a place where 'roided, tattooed Douchebags and lithe, nubile hotts go to see and be seen, why do they pay an additional $175 to $300 to hide in a covered canvas Boy Scout tent? Well, for this bunch it makes sense.
Phillip and Steve are far from the prototypical Vegas Douche, while Erma, Chastity (the wild one) and Stacey were sort of hot ten years ago. I contend that we can still find it in our cold, judgmental hearts to heap scorn and our collective derision on them because, quite frankly, that's what we do.
When we sneak a peek into "The Coping Cabana" the stench of broken dreams, failing marriages and materialistic disappointment is palpable. Shackled by huge SUV payments, and upside-down mortgages, they come here as a temporary escape from the sterilized suburbia where they live month-to-month on lies and bank-owned status symbols.
They're here hoping for a brief respite from their whining, obese children, clogged toilets and sagging bust lines. An ephemeral hiatus from disinterested sex partners, stretch marks, business failures and the mid-life crisis which is certain to come.
However, it's only a short reprieve as they lie there among the dead skin, dust mites and bed bugs which befoul the cheap fabric of this sweaty, bacteria-infested Vegas sanctuary. The clock is ticking, the rented cabana must soon be vacated. Their furlough over, they must go home to their self-imposed prisons to finish out a life sentence of dashed hopes, harsh supervisors and the never-ending chore of cleaning out French fries and candy wrappers that those ungrateful little bastards leave under the seats of the SUV.
Also, make no mistake. With some alcohol and a little prompting, I still might rub Erma's nipples with a plastic Wiffle Ball dipped in candle wax and canned cat food, her muffled giggles would erupt into a hoarse, smoker's hack, as I deftly slid the plastic bat up under her large, brown, corduroy bathing-skirt-thingy.
Maybe not.