Thursday, May 19, 2011
The Hot Mess: Medusa's Sloppy Seconds Messy Edition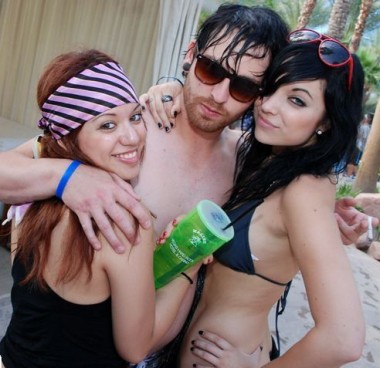 Medusa Oblongata takes time from her busy schedule of bleaching the playpen to deliver this societal eulogy:
In a perfect world, this douchenozzle would have just drowned in the pool. These girls would have fished him out, not to help, but to make a mockery of his hipsterdouche beard and shaved, pallid torso.
In a perfect world, Gigglescarf would swipe his wallet, while Raven LeVamp kneed him in his cold, shrunken genitals. They would leave his limp, wet body on the terrace and head over here for a repast of cupcakes, Doritos and Manhattans, perhaps followed by belly pooching, and more of Raven's Eye Of Coitus demonstrations.
But this is not a perfect world.
This is where douchebags feel the supple young boobies of poolside hotties press against them.  This is the world where buffoonery and arrogance are rewarded with positive hott interaction.
This is why we must mock.
For the buffoons bed with the hotts tonight as the lone coyote howls over the hills and the tasty snack cakes lie in state in cellophane coffins.