Tuesday, May 24, 2011
Where's Waldouche? (With Your Guest Host, Mr. White)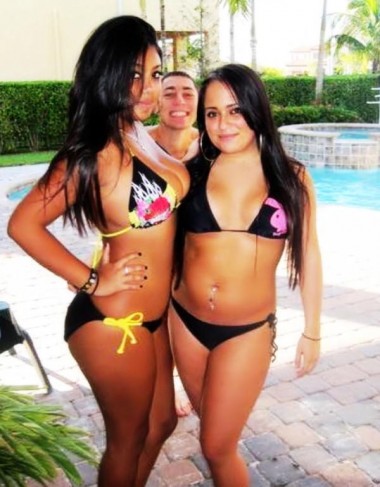 HCwDB legend and micturation master Mr. White hides a grinning choad behind beautiful scenery in this episode of…WHERE'S WALDOUCHE:
"Somewhere in this picture of bountiful, ethnic curvy goodness, I've hidden a grimacing 'bag desperately trying not to soil his swim trunks. Can you find him?
Oh, sweet Jarita on the left. We met our freshman year. I was just a rural boy from western Pennsylvania, and you were on your own for the first time in America, far away from the old country and your parents' strict ways. You were shy and retiring, not yet having learned the power that your looks give you. You invited me to your dorm suite to work on our problem set together. We calculated eigenvalues and shared meaningful looks. You laughed at one of my jokes and touched me gently on the forearm.
Then you told me how you couldn't wait for Father to meet me, because you were sure we could convince him that I was more suitable for you than the boy they arranged for you to marry when you were 12. You told me that you hoped our babies took after me in height, but that they would have your piercing brown eyes.
When you went into the bathroom, I crawled out the window. And I stole $20 from your purse on the way out. I'm sorry about that last part. That wasn't cool at all."